Applying deodorant is for most of us a part of our daily grooming routine. In order to feel clean and fresh we cover our armpits with store-bought substances without really questioning what we are putting on our skin. The reality is that most "conventional" deodorants that we use on a daily basis contain toxic ingredients that may be damaging to your health. You therefore might want to consider making the switch to a natural alternative – or even try making your own!
Why Natural Deodorant?
Conventional deodorants commonly contain aluminum, a metal and neurotoxin, that clogs the pores of your skin in order to prevent you from sweating. While deodorants that make you sweat less sounds great, they are actually disturbing one of the bodys' important functions. Sweating is an essential process for your body to get rid of toxins and regulate your body temperature. By not allowing the body to sweat, the sweat will build up beneath the skin, which may cause skin-irritations. Aluminium has also been linked to more serious health issues such as breast cancer and Alzheimer disease. Conventional deodorants also contain other ingredients that may be damaging your health. In addition to aluminum, there are 4 ingredients that are of concern: parabens, triclosan, propylene glycol and synthetic fragrances. These have been linked to health effects such as allergies, skin-irritations, organ damages, birth defects and hormone imbalance. By making the switch to an all-natural deodorant, you can stay fresh through the day without having to worry about potential health problems.
Note: when making the switch towards a natural deodorant be prepared to go through a "detox period", where your body is getting rid of the aluminium it has built up over the years. This transition period usually lasts for a few weeks and you may experience an increase in both sweat and odour. However, once your body has adjusted, your natural deodorant will neutralise body odour and you will have happy, healthy armpits!
Natural Deodorant Ingredients
To create your own natural deodorant you only need 4 ingredients that you normally can find in natural goods stores and drugstores (DM).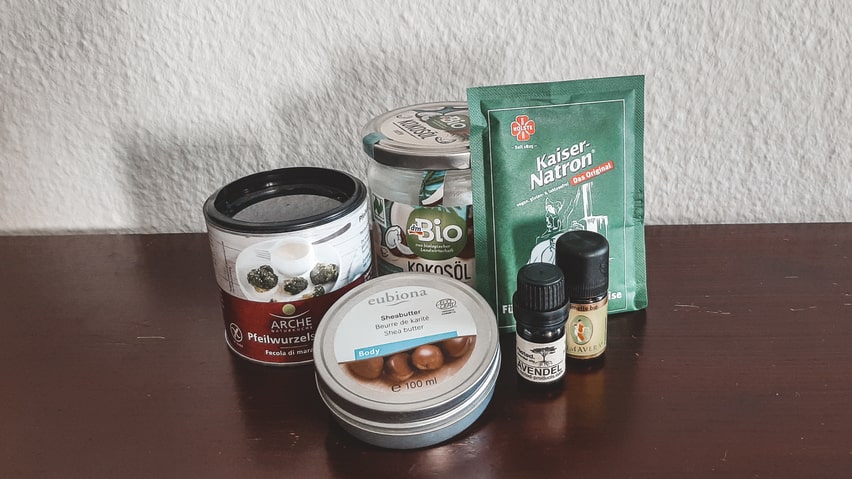 Coconut Oil
Coconut oil is simply oil extracted from the kernel or meat of mature coconuts. Coconut oil is a popular deodorant ingredient that has mild antibacterial properties, hydrates the skin and is anti-inflammatory. Together with the shea butter, it is used as the base for the deodorant.
Shea Butter
Shea butter is a fat extracted from shea tree nuts. It is naturally antibacterial, anti-inflammatory and moisturises the skin. While shea butter has very similar properties to coconut oil, the two differ in the amounts and types of nutrients they contain.
Arrowroot Powder (or Cornstarch)
Arrowroot powder is made from the starch of the arrowroot plant. If you do not have arrowroot powder, you can use cornstarch. Both ingredients help to absorb moisture and are used as thickeners, which gives the deodorant a creamy consistency.
Baking Soda
Baking soda, also known as Sodium Bicarbonate, is a type of salt formed by mixing carbon, sodium, hydrogen and oxygen molecules. Baking soda is effective at absorbing moisture, and will keep your armpits dry. It additionally helps remove unwanted odour.
Essential Oil (Optional)
Essential oils are a natural fit for deodorant because of their ability to control odour. For this recipe I use about 5 drops of lavender oil and 15 drops citrus essential oil. Lavender works well in deodorants as it is naturally antibacterial and has calming properties that works well on sensitive skin. Citrus oils, such as lime, orange, grapefruit or lemon have cleansing properties that help purify the skin and give the deodorant that fresh smelling aroma.
Beeswax (Optional)
Beeswax is natural wax produced by honey bees. It will help stiffen up your deodorant. This may be desirable if you want to make a block deodorant or want to make a deo-stick. You may also want to use some beeswax if you live in a warm climate or during summer as the deodorant can get too liquid under warm conditions.
Natural Deodorant Recipe
Before you jump into the recipe, get your equipment ready. You will need a glass/steel bowl, a medium-sized saucepan, a stirring stick/whisker and a 200 ml container/jar.
Prep time: 10 min

Resting time: 4-5 hours
Ingredients
| | |
| --- | --- |
| Coconut Oil | 2 ⅕ tbsp |
| Shea Butter | 2 ⅕ tbsp |
| Arrowroot Powder (or Cornstarch) | 4 tbsp |
| Baking Soda | 1 ½ tbsp |
| Essential Oils (optional*) | 15-20 drops |
| Beeswax pastilles (optional*) | 1 tbsp |
Instructions

Slowly melt the coconut oil and shea butter in a glass/steel bowl over a medium-sized saucepan filled with water. Ensure to stir the mixture until it has fully melted. If you are using beeswax, add the pastilles to the mixture.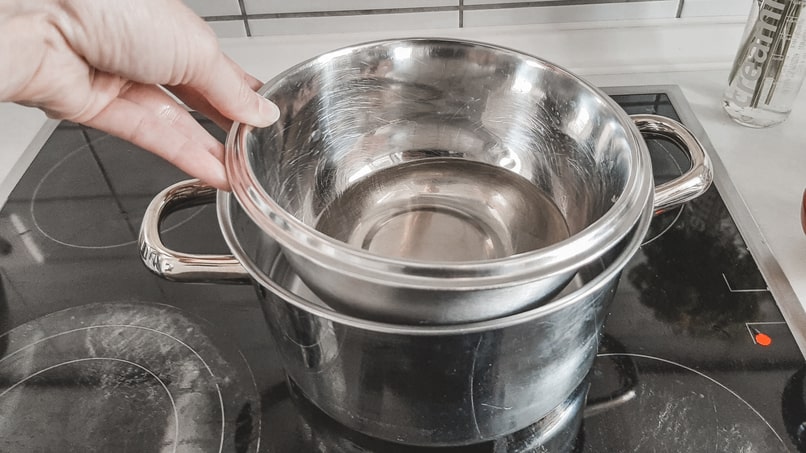 Add Remaining Ingredients
Once melted, add the arrowroot starch (or cornstarch), baking soda, essential oils.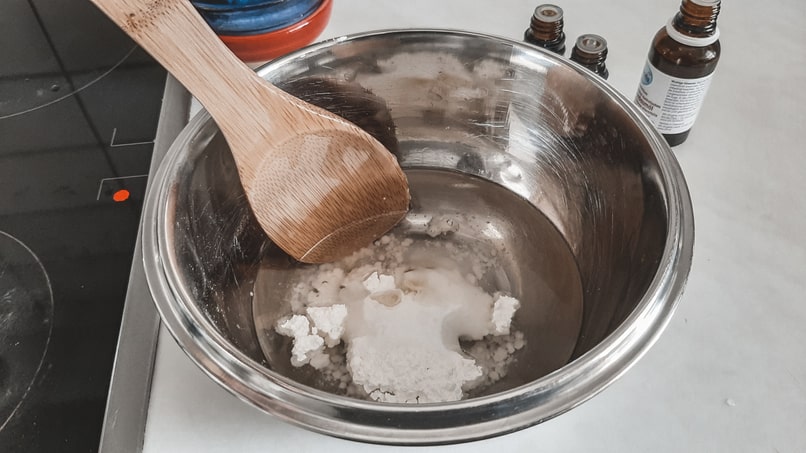 Pour the mixture in a container/jar and allow it to cool down before covering it with a lid. Once the mixture has thickened to a creamy consistency, it is ready to use. Tip: put the container/jar in the fridge for it to stiffen up faster.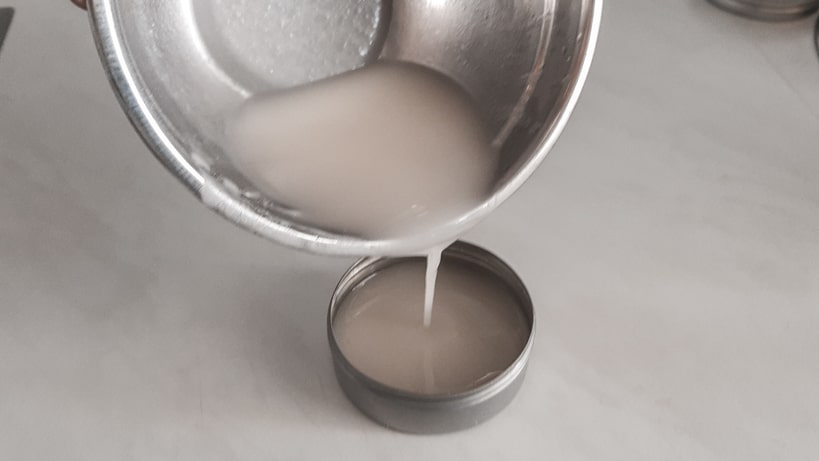 To apply, scoop out a pea-sized amount of deodorant using your fingertips or a small spatula and spread under your arms. NB: do a patch test before using the deodorant in case you are sensitive to any of the ingredients.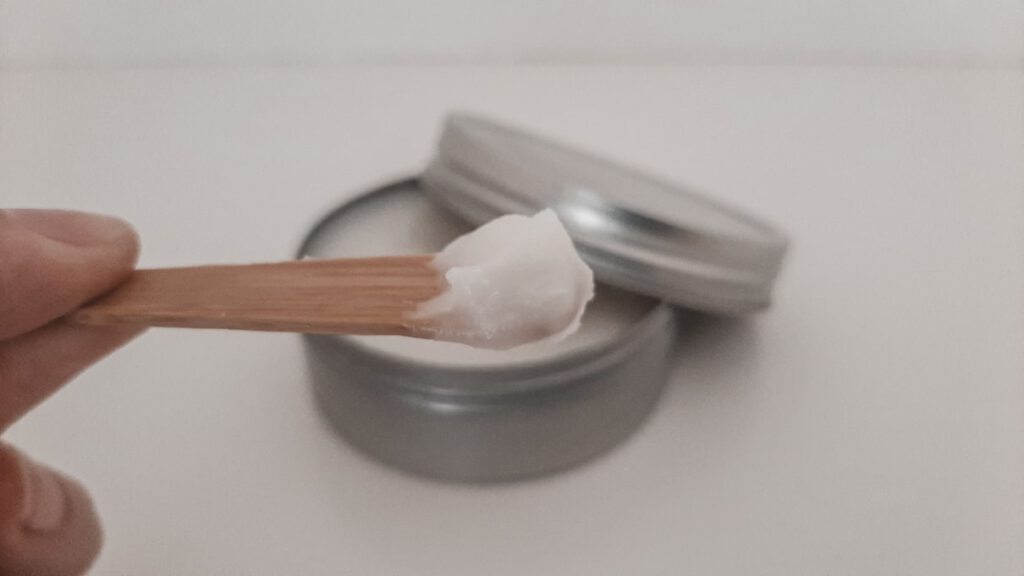 Not into DIY But Still Want to Go Natural?
If you prefer to buy your deodorant rather than making it there are several great and natural deodorants available. Below are some great natural alternatives that you can buy online.